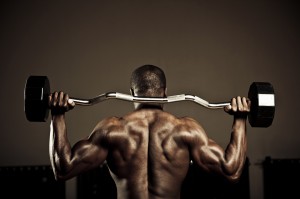 Beginning bodybuilders often make the mistake of attempting to follow the training programs used by professional bodybuilders. It may make sense to them that you would train like a particular athlete if you wanted to look like a particular athlete, but the reality is that this is simply not possible. It takes years of training at moderate levels for bodybuilders to reach that level. You need to start slow as well.
You may notice that in comparison with other training programs, this routine is relatively low-set. This is intentional, allowing your muscle groups to recover in 72 hours so that they will be ready for the next workout. If you feel there aren't enough sets in a particular day, it may mean that you're simply not training hard enough. Push out an extra rep of every movement, or add ten pounds to each weight load, and see if you're still really all that anxious for additional work sets. Here is the sample routine!
Day One (Monday)
Chest
Two sets of flat dumbbell bench press. Aim for 12 reps on the first set, and 10 reps on the second, as you add more weight.
Back
Two sets of Chin-ups using your body weight. Try for 8 to 10 reps each time.
Shoulders
Seated overhead dumbbell press. Two sets of 10 to 12 repetitions.
Biceps
Standing barbell curls for 10 reps should be plenty. Follow that with standing alternate dumbbell curls to bring out the peak!
Triceps
Close grip bench press for two sets of 8 repetitions should add some beef to your upper arms!
Quadriceps
Three sets of standard barbell squats. Your rep range should be 12, 10, and then 6 to 8 repetitions.
Hamstrings
Two sets of lying leg curls for 10 to 15 repetitions.
Calves
Use the leg press machine to complete three sets of toe raises with enough weight to make you fail by rep number 12.
Abs
Drop to the floor and complete 50 crunches.
Forearms
Two sets of reverse grip barbell curls should be enough to build up the forearms. Complete two sets of 10 to 15 repetitions.
Day Two (Thursday)
Quadriceps
Today we will recover from Monday's squats by using leg press for 3 sets of 10 repetitions.
Hamstrings
Seated leg curl machine for 3 sets of 12 repetitions should help bring out those leg biceps.
Calves
Seated calf raises for 3 sets of 12 to 15 will help you finish off legs for the week.
Back
Deadlift using a back brace for 2 sets of 15 to 20 repetitions.
Shoulders
Dumbbell side raises for 3 sets of 10 to 15 reps should suffice.
Biceps
EZ-curl bar preacher curls for 3 sets of 12 to 15 repetitions should get your weekend started right.
Chest
Incline barbell press using a spotter for 3 sets of 10 repetitions.
Triceps
Skull crushers using an EZ curl bar for 10 to 12 repetitions will help shape and build the triceps.
Abs
Drop to the floor and complete 100 lying leg raises using as many sets are necessary.
Forearms
Training abs first will allow your pumped forearms to retain some Knock out two sets of reverse grip wrist curls, and hit the showers!